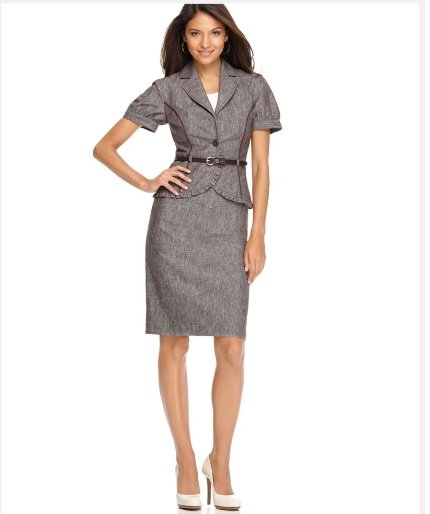 Depending on your personal style and office dress code, there is a wide variety of ladies spring suits available in the market. Available in puff sleeved or short sleeved belted versions and three piece options, these warm weather ladies business suits are the best workwear to wear during the spring season and even beyond - right into the summer season as well!  Even though the weather during this time is pleasant and bearable, your workwear should be made of light and airy materials such as cotton, silk, crepe and wool blends in order to get the best comfort and experience from your business clothing.
While short sleeved suits are ideal for beating the heat, tulip skirts are a great way to enhance your work appearance during spring and three-piece ladies suits look excellent with tie-neck tops. Offering year long appeal, menswear inspired spring suit styles can make you stand out in your office while helping you to stick to your office wear policy.
Apart from exciting spring colour and design options such as subtle or pinstripe patterns, your ladies spring business suits can be in black and navy as well just like your other business clothing. Most importantly, by combining the right fashion accessories with your spring business suits, you can easily transform this branded apparel into your business casual option in no time!
The essential accessories that can help you to bring about the desired transformation are scarves, brooches, pins, stud earrings and blouses in the latest spring colours and designs.